A Sunny State Park Wedding!
Tori & Bridget's Wedding in Cooperstown, NY
You know that thing about catching the bouquet at a wedding….
I met Tori & Bridget two summers ago when I was the photographer at their friends' wedding, and I will not forget the level of excitement in the crowd when Tori caught the bouquet. Fast forward a year, and the light at sunset during their Adventure Session was unreal (see it here!). Skip ahead one more year to their wedding day, and I couldn't believe it when they had another sunset that was just wild. Stunning light plus their chemistry led to perhaps the most romantic series of photos I've ever taken of a couple at their wedding.
The sunset was magical, but the whole day was lovely. A few of my favorite things about their Betty and Wilbur Davis State Park wedding:
-How totally apparent it was that Tori & Bridget were in the moment on their wedding day, enjoying each other and their guests fully. So Tori's earrings wouldn't cooperate- so what. She didn't care! So it was too windy to light the candles on the tables- not a big deal at all. I could tell how much they adored their family and friends and how much it meant to them to be wrapped up in love- even literally when they were gifted a gorgeous handmade quilt inspired by the clothing they wore for their Adventure Session. It's the one in the sunset photos, and it will be treasured always no doubt.
-The generations of guests present, from grandparents to little babes in arms. The state park pavilion was next to a playground, so the kids were over the moon. They're going to think all weddings involve swings!
-The food was AMAZING. It was an all vegetarian buffet, and even the most meat-and-potatoes focused guests were going back for seconds.
-The ceremony was so touching. The celebrant knew Bridget from college days when she and Tori first met, and the personal and powerful sermon she delivered was the best I've ever heard. A friend sang Ave Maria, and her voice gave me chills. Many a tear was wiped as her voice soared.
I could go on and on, but I'm so thankful to have first met Journey and Amy who then led me to Tori and Bridget.
All the best wishes,
Danielle
First, a few of my favorites followed in storytelling fashion from getting ready to getting down on the dance floor!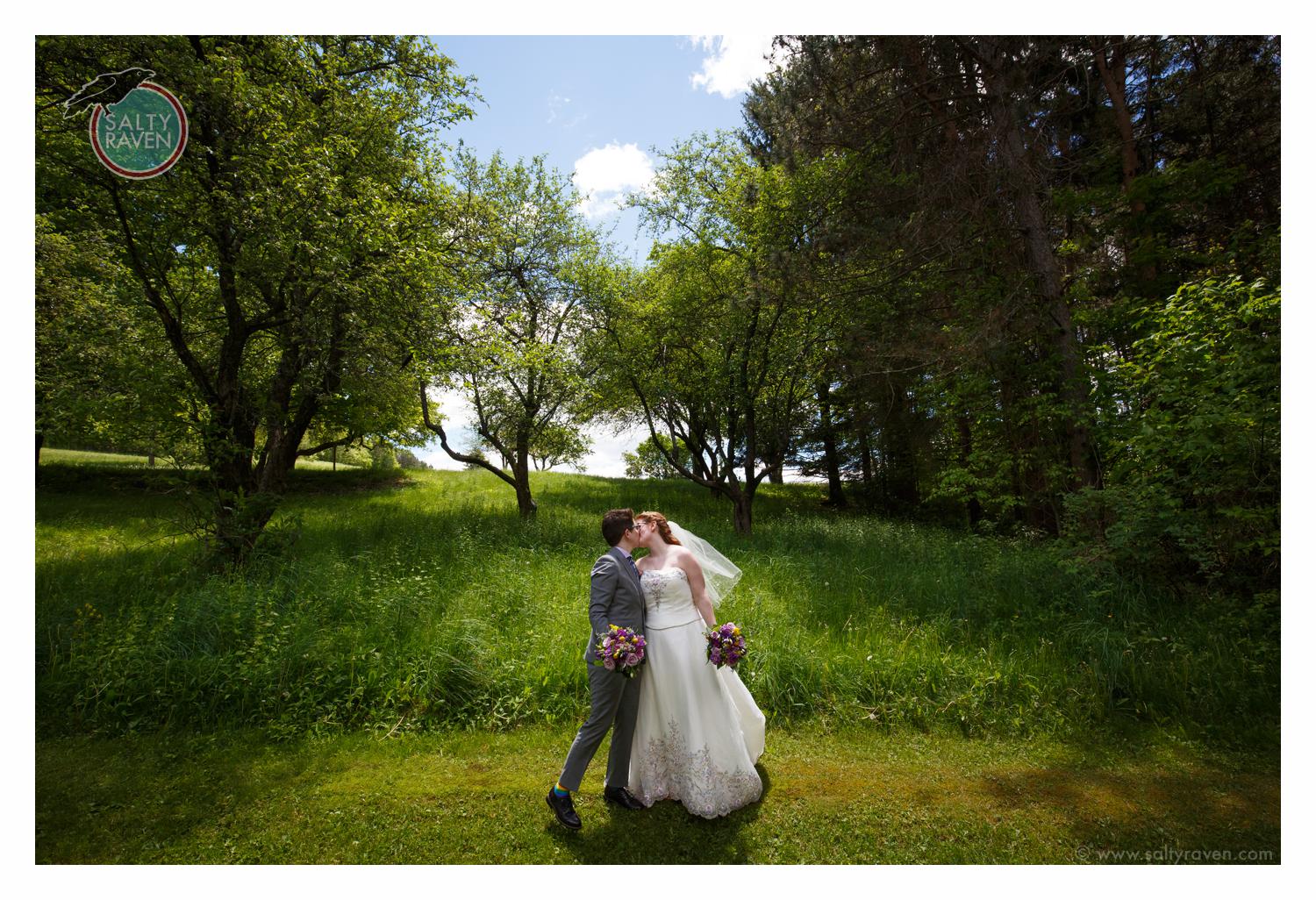 And now to the beginning where Tori and Bridget got ready in the state park's adorable cabins….








I love this moment caught just before the ceremony started. "You're going to need some tissues for this one," is what I'm imagining him saying.



The photo below is special to me for a couple of reasons- Tori & Bridget were listening to the readings, and I noticed that a sliver between the pews framed their clasped hands. The lines from the shadows and carvings lead your eye to their hands, but then there's another layer to it- Tori's parents were married in the same church, so the pews have family history as well.











Months ago I received an email out of the blue from a woman asking for help identifying a shirt pattern. She explained that she was making Tori and Bridget a wedding quilt inspired by the clothing they wore for their Adventure Session! She had found a checkered fabric to match Tori's dress already, but the pattern on Bridget's shirt was a little too tricky to discern. I asked her to please let me photograph them opening the quilt because I knew it would be super special, and wow. It totally was.





Vendor Info provided by the couple:
Reception Venue: Betty and Wilbur Davis State Park
Photography: Salty Raven Studio & Event Photography
Catering: Brian Wrubleski of Mel's at 22
Celebrants/officiants: Elsie Rhodes, the reverend of First Presbyterian, and Tamara, a family friend who is in seminary
DJ: DJ – Elm Street Entertainment
Flowers: Info coming soon!
Bridget's suit: Made for her by Bindle & Keep